What is web-to-print?
Web-to-print is simply print orders which are placed and paid for online. This covers flyers, leaflets, business cards, stickers, pens or even mugs. Any of these items and many more are ordered online and delivered directly to your premises.
Most web-to-print orders are personalised, such as, a customer will enter their name and contact details into a customised Template – a business card, for example – before confirming the quantity and type of card needed then 'checking out'.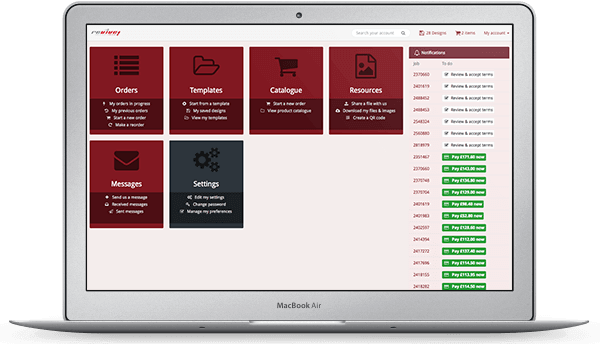 Why use a web-to-print system?
1. It's quicker. Ordering print from a printer can involve a number of stages such as ordering a new job, waiting for a proof, requesting changes and signing the job off for print. This could take days and then it could take 5-7 days more for the order to be produced.
A web-to-print system allows orders to be placed in minutes rather than days by having all the initial stages take place online.
2. It's cheaper. By the customer making changes to their design online at the time of ordering, they save significantly on design costs. With a web-to-print system you can also harness your group's buying power to give you access to discounted products and special deals.
3. To keep branding consistent. A distinctive and consistent brand is vital to every business no matter the size. However, for a multi-site, charity, or franchised network there is a danger it can be interpreted in different ways by the multitude of different users.
With our system, Head Office keeps control by choosing the templates everyone orders from so they can personalise them in many different ways but the branding stays the same.
Do I need a web-to-print system?
If you have a network of people who all need to place print orders using a common brand, a web-to-print system is the easiest, most cost effective and secure way of doing this.
Why use On Brand On TimeTM?
The On Brand On TimeTM web-to-print system doesn't require any special design or web skills to use. The system has been created to be as easy and quick to use as possible. It includes a useful suite of tools to help you monitor and manage the marketing activities of your network
Being integrated with the Face Media Group product range, allows us to offer you a complete printing solution.